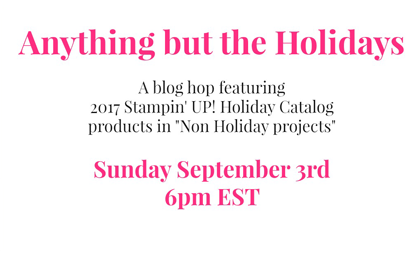 Hi Stamping friends!
As part of my effort to improve my craft, I'm participating in a Blog Hop today and it promises to be a fun one! The new 2017 Holiday Catalog came out on September 1st and you will be amazed at all the great new products and ideas to create your holiday projects, BUT, what about non-holiday uses? I think that is where the fun begins, outside the box, so to speak. It's a great challenge to figure out how to use new products in unpredictable ways, thus increasing their versatility and appeal. That's what this blog hop is all about. Here's my project:
When I saw the "little drummer boy" in the Holiday Catalog, I thought immediately of my son, Sam, who spent 7 years in a high school and college drum line for marching band! It was a great experience for him and vicariously for my husband and I. I know the main point is football, but boy do the marching bands help set the mood, rev up some spirit and provide some great entertainment! My son's birthday is on Labor Day this year so I will have this card all ready for him! This card uses one of my favorite sets in the new catalog, "Musical Season". I inked up the drummer boy image and double stamped with Basic Grey ink. I then cut out the drummer boy with the framelit on Basic Grey card stock. I wanted to create as much depth as possible and create the illusion of a whole drum line, marching in perfect sync and coordination, just like they really do! I used the small balloon in the balloon punch and some Coffee Cafe paper for my project, to emphasize that this is a birthday card! My Soft Sky background paper is also from the Coffee Cafe Designer Series Paper.
And now a personal note to my blog, my son in action with the Montana State University Spirit of the West Marching Band!
We are a musical family and this will always be one of our favorite life experiences... marching band!
I hope you've enjoyed my card for the "Anything but a Holiday" Blog Hop. One of my favorite things to do is to "repurpose" SU products and use them in unexpected ways. For me, it makes the products that much more versatile and usable, creating better value for the money I've spent. Thanks so much for checking out my blog! I blog most days and try to feature a new idea, product or technique every day! Head to the next blog for more fun!
Happy Stampin',
Sarah
And, now for the blog hop part! Be sure to check out the rest of these ideas!